Strategic Elementary Scheduling Support for Students, Staff & Schools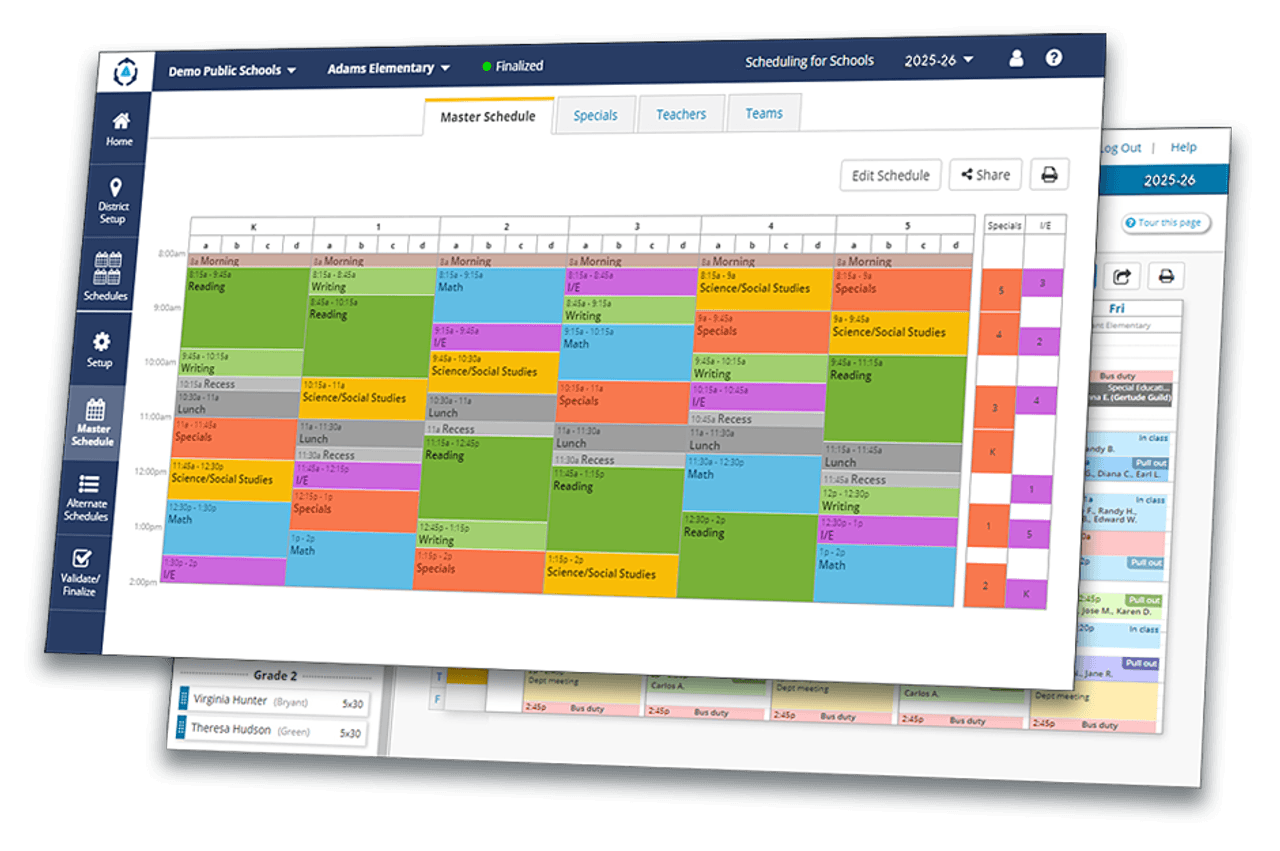 Best-in-Class School Scheduling Software
DMSchedules combines our powerful, web-based scheduling software, field-proven best practices, and a team of scheduling experts to help you define instructional priorities to develop effective student-centered elementary school schedules and individual staff schedules.
Maximize the impact of every minute for every student and join the thousands of educators nationwide who use DMSchedules for their elementary school and special education scheduling today.

Scheduling for Elementary Schools
Schedule design, creation, and modeling software for elementary school schedules. Quickly prepare homeroom, specials, and dependent teacher schedules.
Scheduling for Special Education
Efficient and coordinated schedule creation and management for interventionists, special educators, related service providers, and support staff to ensure IEP compliance.
Reduce the time to prepare schedules from weeks to hours
Set and embed instructional guidelines with ease
Make drag-and-drop adjustments
Quickly explore multiple scheduling scenarios
Automatically create dependent student and staff schedules
Share up-to-date schedules with staff in real-time
Maximize special education and related service support opportunities
Foster collaboration and continuous improvement
What Our Customers Say
"Each morning when I am shuffling staff to cover those who are out, I am thankful to you and this product. Having our schedule centrally located has been a lifesaver this school year."

"The software and service are excellent! I can very easily manipulate changes and share them with staff and colleagues outside of our school. The greatest impact is in the time saved and the ability to collaborate with others."

"The software allows you to make one master schedule that can, in turn, create individualized schedules for teachers automatically without having to make so many different versions of the schedule to meet individual teachers' needs."

Principal

Sioux Falls, SD
Trusted by Thousands of Educators