Step-by-Step Guide to Elementary School Scheduling
It is no secret that creating an elementary school schedule is one of the more complex tasks educators face every year. School schedules can take many days, or even weeks due to the requirements for each grade level, teacher, and staff availability, and numerous interdependencies that exist when preparing a master schedule.
With this in mind, it is critical to ensure that schedule planning is done early and that the scheduling process is systematic and well-structured so that your students and your staff can benefit from an efficient and effective school schedule for the new school year.


Build and Manage Your Best Elementary School Schedule Quickly and Easily

To make the process easier, many schools are now turning to software solutions like DMSchedules for Elementary Schools scheduling software to help create, manage, and optimize their master schedules.
DMSchedules allows you to design the main schedules for all grades with drag-and-drop ease and automatically generate homeroom, specials, and dependent teacher schedules.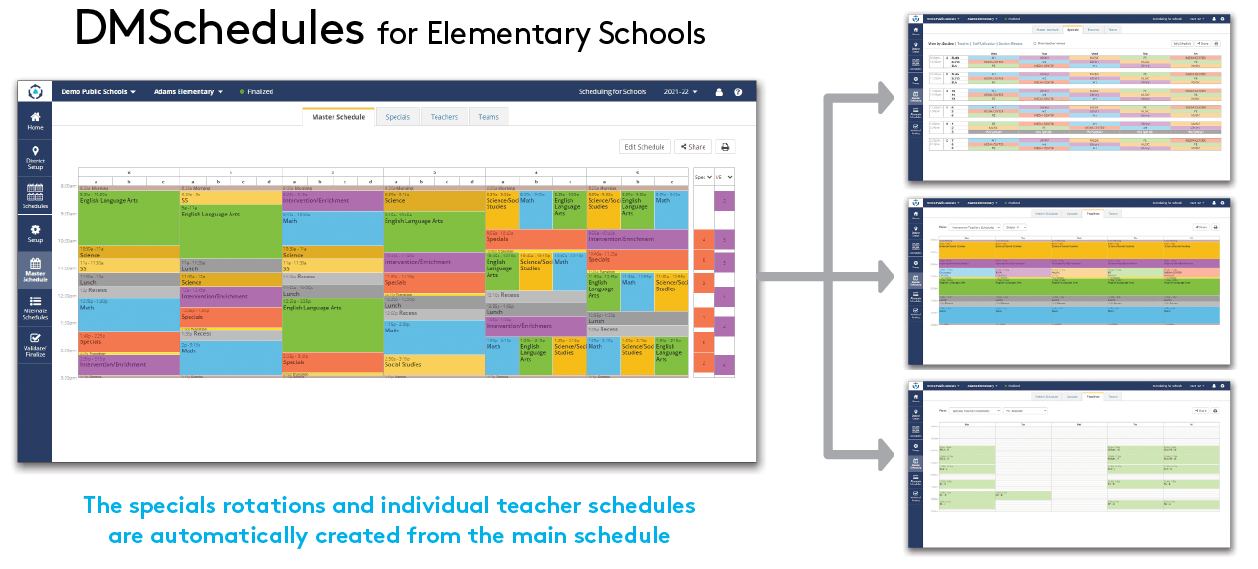 ---
How to Make Your Elementary School Scheduling a Success?
In this blog post, we will share our expert guidance and proven scheduling strategies to help you create perfect master schedules for an elementary school.
It is important to have the following goals in mind when scheduling for elementary schools:
Maintain consistency in the elementary instructional school day and define curriculum and instructional expectations on a district level

Protect instructional time to ensure core instruction is received by all students

Be strategic and deliberate when creating opportunities for special education, intervention, student services, and enrichment programs throughout the school day

Provide daily, grade-level common planning time opportunities for all teachers
---
Step-by-Step School Schedule Development
In order to develop successful elementary school schedules aligned with your learning priorities, make sure you follow the steps outlined below:
Create a Strong Scheduling Team
Build a strong scheduling team that includes a cross-functional group of grade-level teachers, special education teachers, specialists, interventionists, and related services staff.
Define clear instructional minute guidelines that include required subjects and the minimum minutes of daily instruction for each grade.
Create a timeline for schedule creation that begins with initial conversations, months before the end of the school year, and incorporates new information and adjustments based on feedback, and continues through final revisions and schedule publication to your school.

Set Schedule Goals and Expectations
Establish goals and expectations for the schedule including non-negotiables, clear guidelines and minutes of instruction, and specific expectations for pull-out and push-in services. This helps build a master schedule aligned with the strategic goals of your district and school and ensures your schedule is focused on results for students (student-centered).
Define Schedule Constraints
Clearly identify the hard constraints you will face as you build your master schedule, including the requirements of your teacher contract, use of multipurpose spaces, shared resources, and more.
Schedule Specials
Specials periods are often seen as one of the most complex and frustrating aspects of elementary scheduling. We recommend that you focus on scheduling your specials first. Schedule specials at the same time and for the same duration for all sections of a grade to create daily common planning time opportunities for homeroom teachers.
Schedule Lunch and Recess
Add lunch and recess after scheduling specials. There are a number of factors to consider when scheduling lunch and recess, including timing, duration, and playground capacity.
Add Core Instruction to Your Schedule
Add ELA and Math classes after you have scheduled lunch/recess. Leverage the instructional minute guidelines you already established to begin scheduling core ELA and Math blocks. Stagger ELA and Math classes within the schedule to maximize the reach and impact of services for students and support providers if you allow push-in support during components of instruction (e.g. small group).
Intervention & Enrichment Scheduling
Dedicated intervention and enrichment periods (I/E) can ensure each student gets what they need when they need it, and with whom they need it. Whether that is additional time in areas where they need extra help or enrichment opportunities.
Scheduling Everything Else
Incorporate remaining periods, such as science and social studies, other subjects such as languages, morning meetings and dismissals, and time spent on transitions.
Build Alternate School Schedules
Plan ahead and develop alternate schedules that reprioritize your use of time on shorter days and align with your learning goals for scenarios like delayed opening, early release for professional development days, or shortened days for assemblies.
Validate Your Schedule and Share it With Your Team
Having completed your school schedule draft and created alternate schedules as needed, it is important to validate it to ensure that all major conflicts have been resolved. Sharing schedules across your school will be more effective if you have individual schedules for homeroom and specials teachers. Also, make sure everyone has easy access to the latest version.
Ready to Start Scheduling?
Now that you have all steps outlined, it's time to start scheduling!
To reduce the time it traditionally takes to create schedules from weeks to hours, we recommend using DMSchedules for Elementary Schools scheduling software.
Loved by thousands of district leaders, school principals, classroom teachers, and special education teachers nationwide, DMSchedules is user-friendly and allows you to experiment with different scenarios making drag-and-drop adjustments to find the best schedule for your school.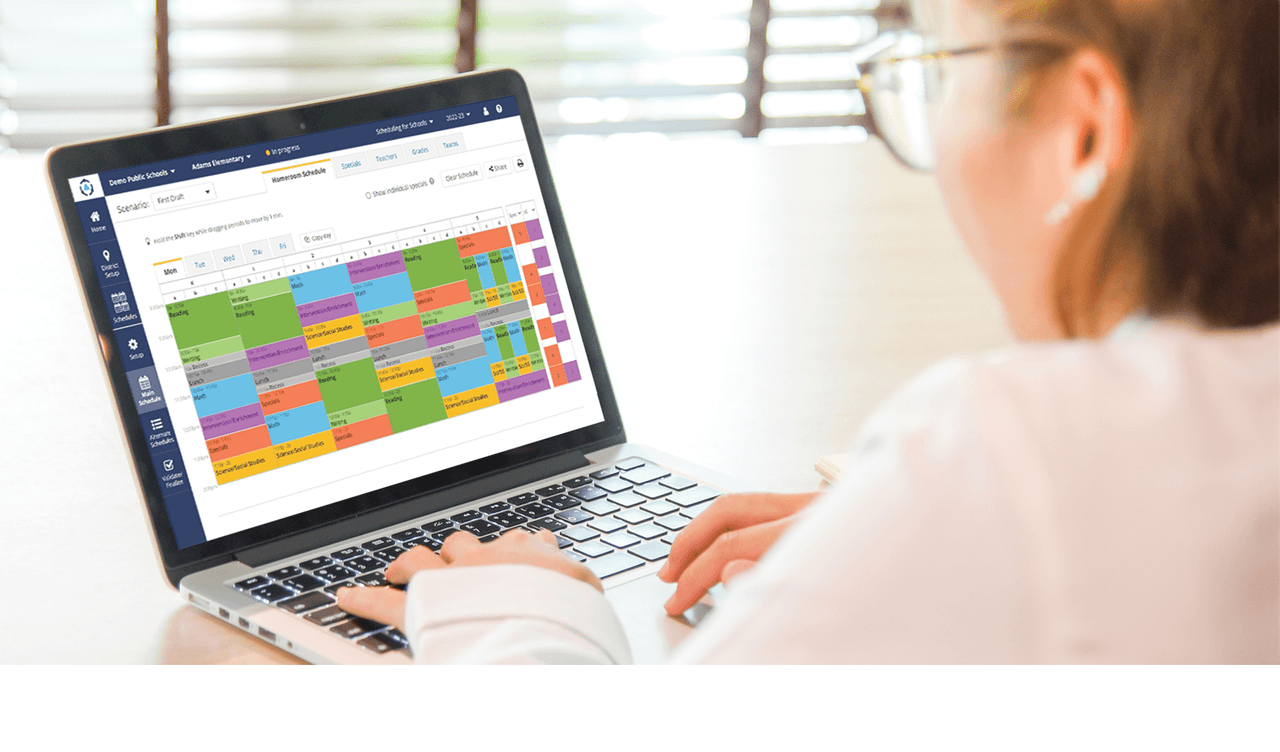 If you prefer to take scheduling off your plate, our team can assist you and build your schedule for you. Contact us with any questions.